Prof. Angela Ruohao Wu achieves new progress in cells that cause cancer
April 18th, 2018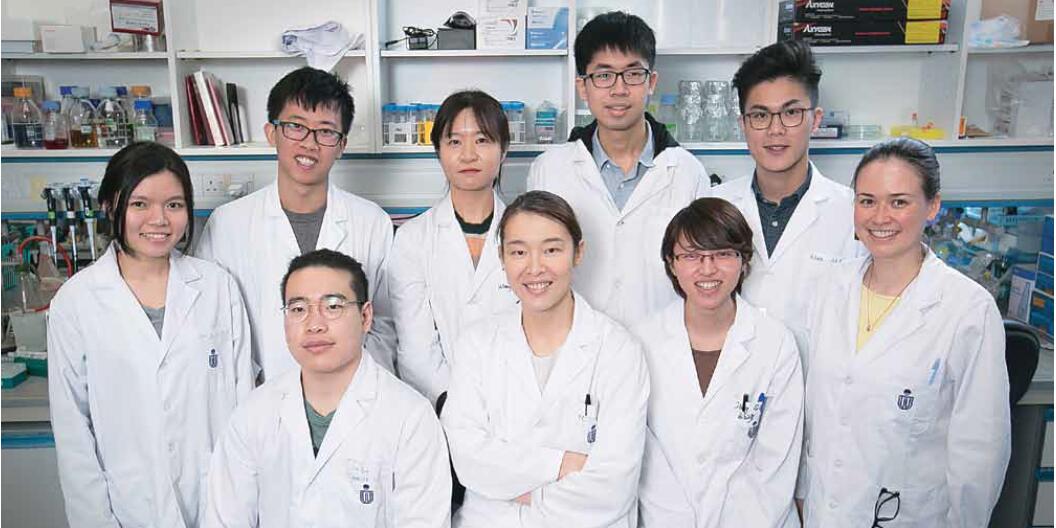 Prof Angela Ruohao Wu is hunting down the cells that cause cancer using novel bioengineering techniques that can profile individual cells with greater accuracy and sensitivity.

Details >>
Source >>



---
Neuroscientist Nancy Ip Identified Potential Treatment Strategies for Alzheimer's Disease
Febrary 20th, 2018
Nancy Ip, the Morningside Professor of Life Science at The Hong Kong University of Science and Technology, identified potential treatment strategies for Alzheimer's disease in her Inaugural Article. The article reports the first whole-genome sequencing study of Alzheimer's disease in the Chinese population. Its publication precedes the planned launch of the China Brain Project.

Details >>



---
Prof. Melody Chao has been invited to join the Society for Personality and Social Psychology International Taskforce
Febrary 14th, 2018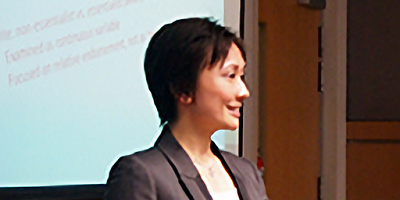 The International Task Force aims to identify challenges that might hinder international collaborative efforts and provide recommendations to deal with these challenges, and examines the current governance structure of the organization to enhance its international focus and ties.

Associate Prof Melody Chao, Department of Management, has been invited to join the Society for Personality and Social Psychology International Taskforce as one of the six members.
Details >>



---
Women in Engineering – meet Prof Rhea Liem
Febrary 13th, 2018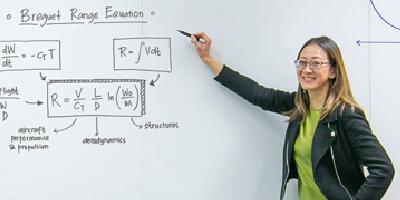 Associate Prof Rhea Liem shared her career experience as a woman in engineering at an interview.

Details >>







---
Prof Irene Lo appointed by HKSAR as Justice of Peace
July 8th, 2017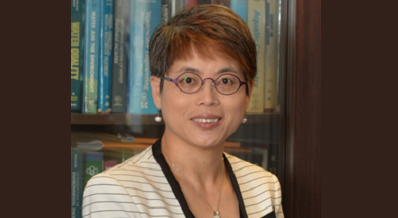 Prof Irene Man Chi Lo, Chair Professor in the Department of Civil and Environmental Engineering, has recently been appointed by HKSAR as Justice of Peace (JP, 太平紳士) in recognition of her outstanding contributions in promoting environmental matters and technology development.







---
Prof Pascale Fung selected as a recipient of 2017 Outstanding Women Professionals and Entrepreneurs Award
July 7th, 2017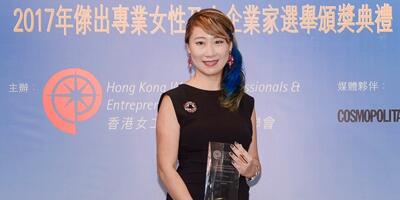 Outstanding Women Professionals and Entrepreneurs Award is a tri-annual event organized by The Hong Kong Women Professionals and Entrepreneurs Association (HKWPEA) which honors and celebrates the achievements of women in Hong Kong. The award recognizes women who have made significant contribution to their professions, Hong Kong's business environment and society. Prof Pascale Fung, Professor in the Department of Electronic and Computer Engineering, has been selected as a recipient of the 2017 Outstanding Women Professionals and Entrepreneurs Award.

Details >>


---
Women in Engineering – meet Prof Angela Wu
Young innovator, named Asia's top 10, shares visions of making a difference
July 4th, 2017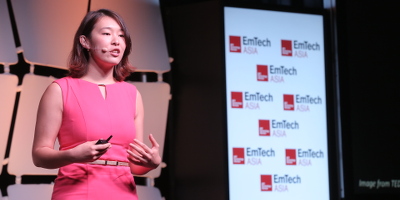 Prof Angela Wu, Assistant Professor in the Department of Chemical and Biological Engineering and the Division of Life Science, shares her positive attitudes towards life and engineering with the '"Women in Engineering" series after becoming one of MIT Technology Review magazine's Top 10 Innovators Under 35 in Asia.

Details >>




---
Prof Pascale Fung participates in the official Sister March of the Women's March in Macau
January 20th, 2017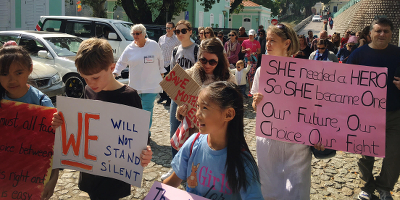 Millions of people participated in Sister Marches all across the world inspired by the Women's March in Washington.
Professor Pascale Fung joined the official Sister March in Macau.

Album >>





---
Prof Chow Hei Man and Prof Pascale Fung attend the Annual Meeting of the Global Future Councils of the World Economic Forum 2016.
November 13th-14th, 2016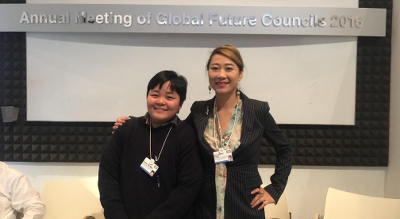 The World Economic Forum's Network of Global Future Councils is the world's foremost interdisciplinary knowledge network dedicated to promoting innovative thinking on the future. Prof Chow Hei Man from LIFS and Prof Pascale Fung from ECE attended the meeting as experts.

Details >>





---
Better education for women will cut income inequality, not increase it
July 1st, 2016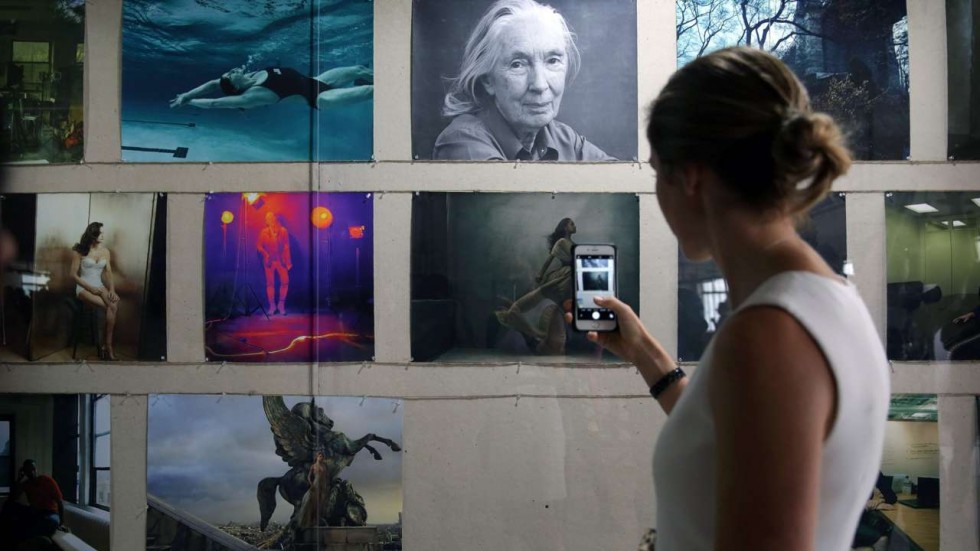 Some of the HKUST professors talk about the link between better education for women and household income inequality.

Details >>






---
Congratulations to Professor Y. Jane Zhang on her paper about female competition,
to be published in the Proceedings of the National Academy of Sciences (PNAS)
April 29th, 2016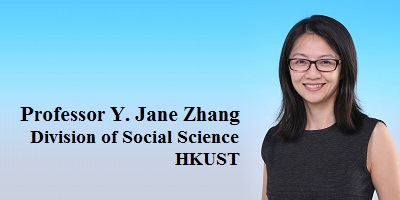 Recent advances have highlighted the evolutionary significance of female competition, with the sexes pursuing different competitive strategies and women reserving their most intense competitive behaviors for the benefit of offspring.fluential economic experiments using cash incentives, however, have found evidence suggesting that women have a lower desire to compete than men. We hypothesize that the estimated gender differences critically depend on how we elicit them, especially on the incentives used. We test this hypothesis through an experiment with adults in China (n = 358). Data show that, once the incentives are switched from monetary to child-benefitting, gender differences disappear. This result suggests that female competition can be just as intense as male competition given the right goals, indicating important implications for policies designed to promote gender equality.

Details >>

---
Potential Alzheimer's breakthrough by Hong Kong scientists restores memory of lab-mice
April 21st, 2016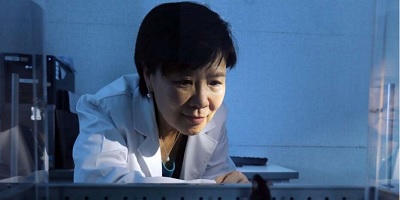 By injecting mice affected by dementia with a specific protein, the team from Hong Kong University of Science and Technology successfully restored the animals' memories, potentially unlocking a treatment for humans in the future.

Details >>




---
Named Professorships for Professor Kei May Lau of ECE and Professor Qian Zhang of CSE.
March 9th, 2016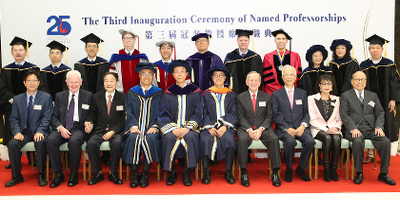 Professor Qian ZHANG is appointed the Tencent Professor of Engineering and Prof. Kei May LAU of ECE is named Fang Professor of Engineering at the Third Inauguration Ceremony of Named Professorships for Outstanding Faculty Members.

Details >>
---
Empathetic Robots Built to Detect Human Emotions
HKUST Professor on Human-Machine Interactions Elected as ISCA Fellow
November 16th, 2015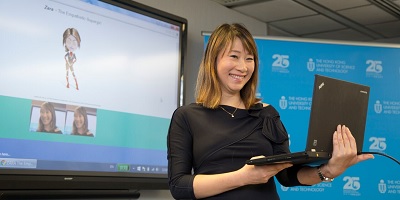 What would happen to our lives if robots could read our emotions and act like a friend? It may sound like some plots in science fiction movies, but Prof Pascale Fung from the Department of Electronic and Computer Engineering at the Hong Kong University of Science and Technology (HKUST) has realized this dream. An expert in intelligent systems that understand and empathize with humans, Prof Fung's latest project "Zara the Supergirl" is a prototype machine capable of chatting with humans in both English and Mandarin, it is expected to chat in more languages including French in the future.

Details >>
---
Dean Of Science Prof Nancy Ip elected as Foreign Associate of the US National Academy of Sciences
May 6th, 2015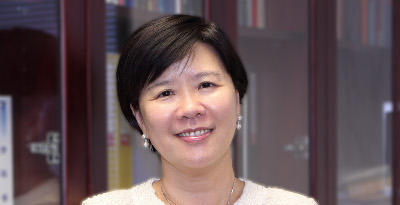 Prof Nancy Ip, Dean of Science, The Morningside Professor of Life Science and Director of the State Key Laboratory of Molecular Neuroscience at The Hong Kong University of Science and Technology (HKUST), has been elected as a Foreign Associate of the US National Academy of Sciences (NAS). The NAS is the oldest and most prestigious scientific organization in the United States that represents all disciplines of science. Membership is a mark of excellence as it is by election only, and based on distinguished and continuing achievements in original research. It is one of the highest honors bestowed by a US scientific organization.

Details >>
---
Prof Kei May Lau encourages young women to pursue engineering
March 30th, 2015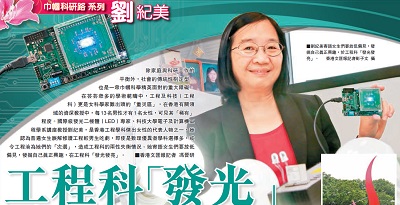 ---
Prof Pascale Fung attends the Womensphere Awards & Summit on Invention x Innovation x Exploration with Engineering students
February 25-26, 2015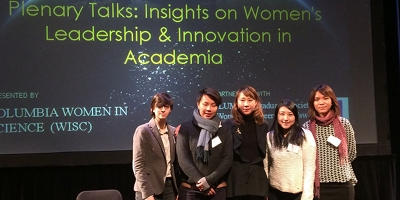 Prof. Pascale Fung attended the event with five students and gave two plenary talks on (1) Insights on Women's Leadership & Innovation in Academia and (2) Advancing Women in STEM in Academia.

Details >> &nbsp&nbsp&nbsp&nbsp&nbsp&nbsp&nbsp Album >>
---
Local inventors' innovative light bulb puts rivals in shade
October 29th, 2014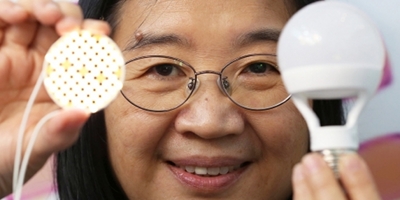 Academic and developer dream up LED bulb that is cheaper, more energy efficient and so durable they're offering a 10-year warranty. The airLED bulb is based on technology invented by Dr Lau Kei-may, chair professor at the Department of Electronic and Computer Engineering at the University of Science and Technology, and telecommunications developer James Wang.

Details >>
---
The Women's Foundation and ANZ launch a new Scholarship Award
March 20th, 2014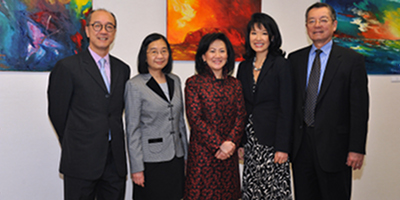 The Women's Foundation and ANZ launch a new Scholarship Award to encourage female undergraduates to pursue engineering and technology degrees at HKUST

Details >>
---
5th Annual Womensphere Emerging Leaders Global Summit
January 14th-16th, 2014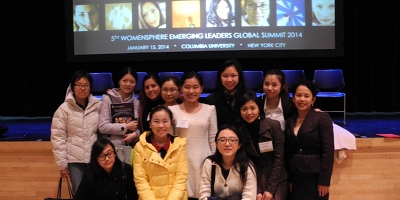 The 5th Annual Womensphere Emerging Leaders Global Summit took place at Columbia University and at their partners' venues, convening over 400 emerging women leaders, innovators, students, and entrepreneurs across industries and disciplines, representing over 50 academic institutions and companies.

Details >> &nbsp&nbsp&nbsp&nbsp&nbsp&nbsp&nbsp Album >>
---
HKUST and Smith College Partner to Develop Women Leaders in Asia's Public Service Sector
December 19th, 2013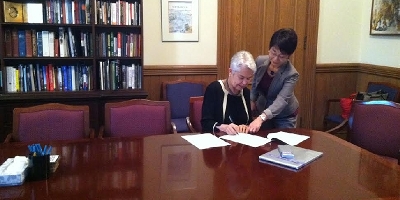 A memorandum of understanding, signed by former Smith President Prof Carol Christ and HKUST President Prof Tony F Chan, cements a collaboration between two schools that are committed to enhancing the global leadership abilities of women in public service.A memorandum of understanding, signed by former Smith President Prof Carol Christ and HKUST President Prof Tony F Chan, cements a collaboration between two schools that are committed to enhancing the global leadership abilities of women in public service.

Details >>
---
HKUST confers Honorary Doctorate in Engineering to first-ever woman recipient
November 8th, 2013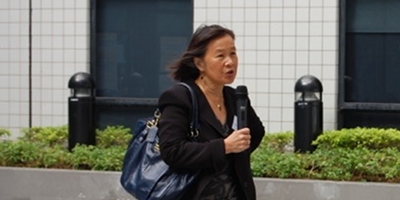 Prof Evelyn L Hu is Tarr-Coyne Professor of Applied Physics and Electrical Engineering at Harvard University. She has made pioneering contributions to highly sophisticated nanofabrication technology, including nano-scale optical devices and lasers, and gleaned fresh insights from the organic and biological worlds to form novel electronic and photonic materials. She has been elected to both the US National Academy of Engineering and National Academy of Sciences. Prof Hu has previously worked at Bell Labs and the University of California, Santa Barbara, and has actively encouraged and demonstrated the importance of building links between academia and industry to enable discoveries to be applied. At Harvard, she has been instrumental in initiating a new working partnership with HKUST to boost undergraduate engineering connections. She is also a Visiting Professor at the HKUST Jockey Club Institute for Advanced Study.

Details >>
---
The Provost announces two task forces
March 8th, 2013
The Task Force on Family-friendly Policies and Practices for Faculty and Task Force on Gender Diversity and Campus Culture were formed in 2012. The former was set up to review existing policies and practices relating to family accommodation, whilst the latter, examine diversity issues at HKUST with a focus on gender-specific facet.

Details >>
---
Research Team Led by Prof Nancy Ip Awarded Major 973 Program Grant
February 8th, 2013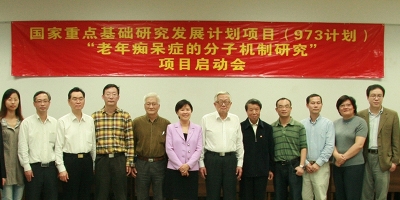 "Elucidating the Molecular Mechanisms Underlying the Pathogenesis of Alzheimer's Disease." By Prof Nancy Ip, Dean of Science, Director of State Key Laboratory of Molecular Neuroscience and The Morningside Professor of Life Science

The research team aims to discover new signaling mechanisms underlying synapse development and plasticity, which are mediated by various families of proteins such as cell surface receptors, cell adhesion molecules, and synaptic scaffold proteins, and investigate whether abnormalities in these signaling pathways contribute to Alzheimer's disease. The team will also elucidate the molecular basis of neurodegeneration in Alzheimer's disease by identifying protein kinase substrates that are deregulated upon disease progression. Further, with the application of genomics and proteomics, the team also aims to identify new biomarkers and molecular targets using clinical samples from Alzheimer's disease patients. The research undertaken in this collaborative effort will advance our knowledge of Alzheimer's disease and facilitate the development of better diagnostic tools while providing novel insights for developing effective therapies for Alzheimer's disease.

Details >>
---
Prof Qian Zhang Win China's State Science and Technology Award
January 28th, 2013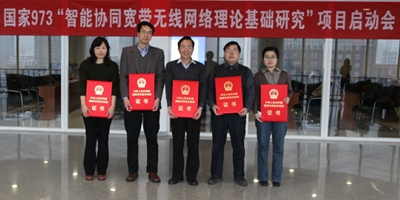 Prof Qian Zhang, Professor of Department of Computer Science and Engineering was recognized with the most prestigious award in science and technology in China – State Natural Science Award (Second Class) bestowed by the State Council of the People's Republic of China.

Details >>
---
A Celebration of Women in Technology
November 27th, 2012
The Women's Foundation launched an exciting new initiative on November 27, 2012 - the TWF Leading Women Speaker Series in partnership with Bloomberg. The series consists of eight networking and panel events on the opportunities and challenges for women in traditionally male-dominated industries. Under the mantra of Aspire, Grow and Lead, the panels will feature female leaders from each industry sector, examine the root causes for institutional and cultural barriers preventing women from advancing, and showcase corporate best practices for the retention and promotion of female talent. The inaugural event focused on Women in Technology.

Speakers included:
Yelu Chen - Technology Analyst, Goldman Sachs
Marissa Dean – Researcher and Lecturer, HKU
Pascale Fung – Associate Professor, Deptartment of Electronic & Computer Engineering, HKUST
Alice Lin – Vice-President of Finance, Oracle Asia Pacific
Cat Rust - EVP & Founder, Exicon
Catherine Zhu - Principal, Egon Zehnder
David Ingles - Markets Reporter & Presenter, Bloomberg Television (Moderator)

The speakers discussed topics from the role of women as designers, consumers and leaders in the technology industry to managing the leaky pipeline to where are the job opportunities to what Hong Kong needs to do to attain its vision to become a leading regional hub for ICT. Over 100 people attended, coming from a wide selection of mainly blue-chip organisations as well as 25 female undergraduate students from the HK University of Science & Technology.

Details >>
---